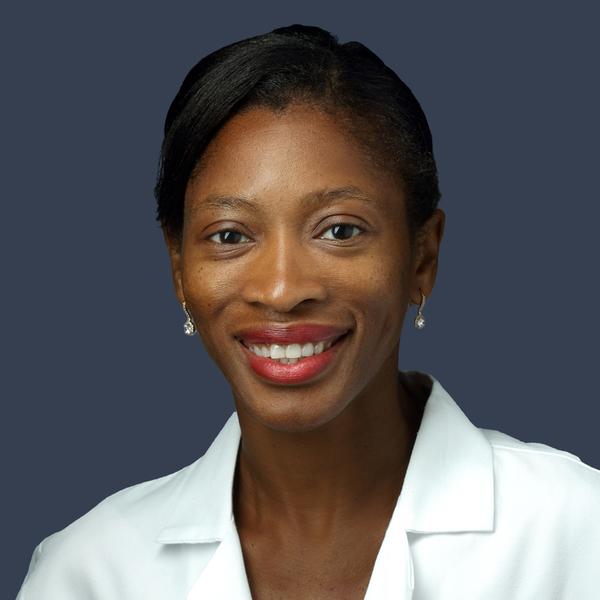 Dr. Aruoriwo Mariam Oboh-Weilke, MD
Languages:
English, French, German, Yoruba
Specialties
Cataract and Refractive Disease

Comprehensive Ophthalmology

Cornea and External Diseases
Conditions I Treat
abnormal pupil function

abnormalities of the eyes

absence of eye

accommodation

acute inflammation of orbit

Show All

Hide
Procedures I Perform
accommodating lens implant
arterial biopsy
astigmatism lenses
cataract removal
complex cataract surgery

Show All

Hide
About the Provider
* Hello, in editing my profile, it does not give me the option to edit my specialty. Under my name, my specialty should be listed as, Ophthalmology: Cornea, external disease, Cataracts & Comprehensive Ophthalmology 
Dr. Aruoriwo Oboh-Weilke has been an ophthalmologist at MedStar Georgetown University Hospital since 2009 and is currently an associate professor of Ophthalmology at the School of Medicine. She is also on staff at MedStar Washington Hospital Center.

A fellow in the American Academy of Ophthalmology, Dr. Oboh-Weilke specializes in cataracts, other external diseases of the cornea and refractive procedures.

After receiving her medical degree from Rutgers Robert Wood Johnson Medical School, Dr. Oboh-Weilke began a year-long research fellowship in neurosurgery at Rutgers/NYU. She subsequently fulfilled her internship at New York Hospital Queens and residency at the State University of New York, Downstate Medical Center. Dr. Oboh-Weilke then completed a fellowship at The Wilmer Eye Institute at Johns Hopkins University School of Medicine.

Dr. Oboh-Weilke is the co-author of a textbook chapter on advanced techniques in ophthalmologic surgery, and has published numerous abstracts.

Before joining MedStar, Dr. Oboh-Weilke was an ophthalmologist with the Dakota Clinic in Fargo and associate medical director of the North Dakota Eye Bank.

Philosophy of Care
I believe that every person is entitled to the very best eye care possible, for every condition. Toward that end, I treat every one of my patients in a caring and compassionate manner.
 
Education
Fellowship Program:

Johns Hopkins Wilmer Eye Institute

(2003)

Residency Program:

SUNY Downstate Medical Center

(2002)

Internship Program:

New York Hospital Queens

(1999)

Medical School:

Rutgers Robert Wood Johnson Medical School

(1997)
Publications
Kirschenbaum D, Wang V, Francone S, Saleem M, Oboh-Weilke, MD: Reconsidering Pseudophakic Monovision: Cataract Counseling Practices and Patient satisfaction. The American Society of Cataract & Refractive Surgery. 2021
Kirschenbaum D, Rigor P, Nik N, Oboh-Weilke AM: Metastatic Breast Cancer presenting as an Epithelial Defect. Journal of Cataract & Refractive Surgery. 2020 JCRS-20-811R1
Weber J, Oboh-Weilke, A.M: Fungemia and Ocular involvement. Victor Simpson Lecture and Resident Research Day, June 2017
Shebaclo K, Dryjski O, Oboh-Weilke A.M: Minocycline Induced Hyperpigmentation of the Sclera Nine Years After Initiating Minocycline Therapy. The American Society of Cataract and Refractive Surgery, 2017. Abstract 29491

Fong A, Oboh-Weilke A.M.: Results of Cataract Surgery in Cancer Patients Receiving Chemotherapy. Association for Research in Vision and Ophthalmology, 2016. Abstract 2433725

Fong A, Oboh-Weilke, A.M: Results of cataract surgery in HIV positive patients. The American Society of Cataract and Refractive Surgery, 2016. Abstract 21169

Korchak M, Oboh-Weilke A.M.: Chronic Red Eye and Recurrent Facial Rash as the Presenting Symptoms of Pediatric Ocular Rosacea. The American Society of Cataract and Refractive Surgery, 2016. Abstract 24275

Masters techniques in Ophthalmologic Surgery. Hampton Roy. Lacrimal Hyposecretion: Oboh-Weilke, A and Lustbader, J. 2015.

Shetty S, Patel H, Bierman L, Lustbader J, Oboh-Weilke A.M.: Aggressive conjunctival Kaposi sarcoma as the initial manifestation of acquired immunodeficiency syndrome. The American Society of Cataract and Refractive Surgery, 2015. Abstract 12469

Oboh-Weilke A.M: Whorl-like pigmented corneal deposits in a patient with severe Atopic Keratoconjunctivitis. The American Society of Cataract and Refractive Surgery, 2014. Abstract P3519
Practice Locations
3800 Reservoir Road Northwest

Pasquerilla Healthcare Center Lower Level

Washington

,

DC

20007

View Map

Phone:

202-444-2745

Fax:

202-444-4978
Member of Medical Staff
MedStar Washington Hospital Center

MedStar Georgetown University Hospital
Awards
2019 Top Doctor Award
Top Ophthalmologist, Maryland
Distinguished Alumnus lecture, Department of Biology, Boston University
Invited Speaker, SUNY Medical Center Residency Graduation
Invited Speaker, Chesapeake Retina Center Lecture series
May 2019 & June 2021
Invited Speaker, Maryland Society of Eye Physicians and Surgeons 14th Annual Conference, May 2021