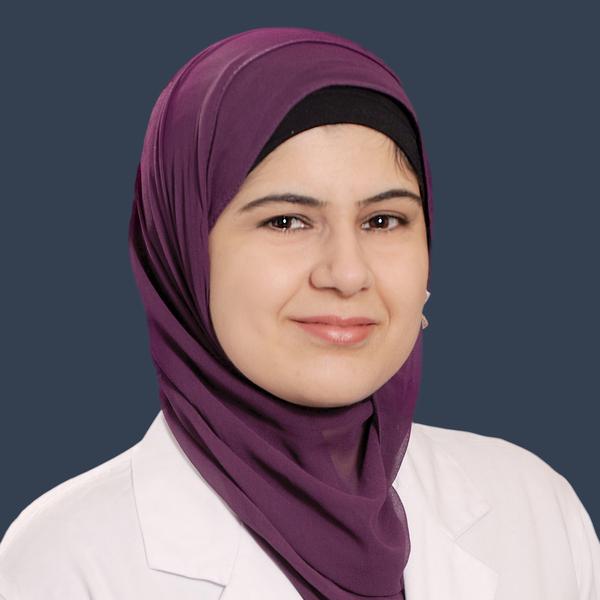 Dr. Sadaf Mustafa, MD, DipABOM
Languages:
English, Hindi, Urdu
Conditions I Treat
abdominal cramps

abnormal bowel movement

abnormal stool

actinic cheilitis

acute arthritis

Show All

Hide
Procedures I Perform
breast cancer prevention and risk reduction
cancer prevention
cancer screening
cerumen removal
chemistry blood panel

Show All

Hide
About the Provider
Sadaf Mustafa MD, is a board certified internist with fellowship in Obesity medicine. Dr. Mustafa is Fellow of American College of Physicians (FACP), she is currently serving as a Medical Director of Med Management Clinics at MedStar Union Memorial and MedStar Good Samaritan Hospital. She is also an Assistant Professor at Georgetown University School of Medicine. She strives for best  patient care everyday and for that she received Over the Top Doc Award. Her interest lies in the management of unhealthy weight and its related unwanted complications.
Education
Residency Program:

MedStar Union Memorial Hospital

(2014)

Internship Program:

Ziauddin Hospital - North Nazimabad Campus

(2006)
Publications
1- Aggarwal P, Sidana A, Mustafa S, Rodriguez R. Preoperative diagnosis of malignant mesothelioma of the Tunica Vaginalis using Doppler ultrasound. Urology. 2010, Feb; 75(2): 251-2. DOI: 10.10 16 /j .urology.2009. 07.1275.  PMID:19969334.

2-  Hoti N, ChowdhuryWH, Mustafa S, Ribas J, Castanares M, Johnson T, LiuM, Lupord SE, Rodriguez R. Armoring CRAds with P21/Waf-1shRNA: the next generation of oncolytic adenoviruses. Cancer Gene Therapy. 2010, May;17(8): 585-97. doi: 10.1038/cgt.2010.15. Epub 2010 May 7.PMID: 20448671.

3- Mustafa S, Nima Jadidi, Rodriquez R.. Case of hereditary papillary renal cell carcinoma. Journal of Community Hospital Internal Medicine Perspectives.2012 Jan 26;1(4); 1 doi: 10.3402/jchimp.v1i4.9468; PMID: PMC3714050.

4- T. Johnson, Mustafa S, K. Desai and N. Höti,. A Single Therapeutic miRNA Rescues the Oncolysis of Androgen Activated Prostate Specific Virus in Androgen Independent Cell Model. Journal of Cancer Therapy. 2012, Dec, Vol. 3 No.6, PP. 1012-1019. 10.4236/jct.2012.36131.

5- Zafaruddin Khan, Tahir,M, Khan,M, Mustafa S, N.Höti. Giant Benign Prostatic Hyperplasia in a Pakistani Patient.. Urology Case Reports. 2014, Jan; Urol Case Rep. 2014 Jan 24;2(1):33-4. doi: 10 .1 016  /j.eu cr.201 3.11.006. PMC4733002.

6-Evaluating the Oncogenic and Tumor Suppressor Role of XPO5 in Different Tissue Tumor Types. Khan M, Khan Z, Uddin Y, Mustafa S, Shaukat I, Pan J, Höti N.Asian Pac J Cancer Prev. 2018 Apr 27;19(4):1119-1125. DOI:10.22034/APJCP.2018.19.4.1119. PMID:29699373.

7- Aggressive metastatic GATA3 positive sarcomatoid carcinoma with rapid progression and invasion of the liver. Shaukat, Irfan, Padgett,Charles, Inayat, Maimoona, Höti Naseruddin, Mustafa,S

8- Unusual presentation of parasitic leiomyoma; a tale of twists and turns.
Shaukat I, et al. J Community Hosp Intern Med Perspect. 2019. Shaukat I Yassin S, Paudel A1 Höti N, Mustafa ,S J Community Hosp Intern Med Perspect. 2019 Apr 12;9(2):168-170. doi: 10.1080/20009666.2019.1591899. eCollection 2019 Apr.
9- Blessing in disguise; a case of Hereditary Persistence of Fetal Hemoglobin. J Community Hosp Intern Med Perspect. . Irfan Shaukat, Sayf Yassin,  Naseruddin Höt ,and Sadaf Mustafa, 2018 Dec 11;8(6):380-381. eCollection 2018. PMCID: PMC6292363.
10- High-grade pleomorphic rhabdomyosarcoma in a 60-year-old male: a case report and review of the literature, Arjun Kanwal, Mary Zulty, Sadaf Mustafa, Pg 287-289,14 Jun 2020. doi.org/10.1080/20009666.2020.1766820.
Practice Locations
5601 Loch Raven Boulevard

Russell Morgan Bldg Ste 500

Baltimore

,

MD

21239

View Map

Phone:

443-444-4818

Fax:

443-444-4331
Member of Medical Staff
MedStar Union Memorial Hospital

MedStar Good Samaritan Hospital
Awards
Over the Top Doc Award 
Internist of the Year award