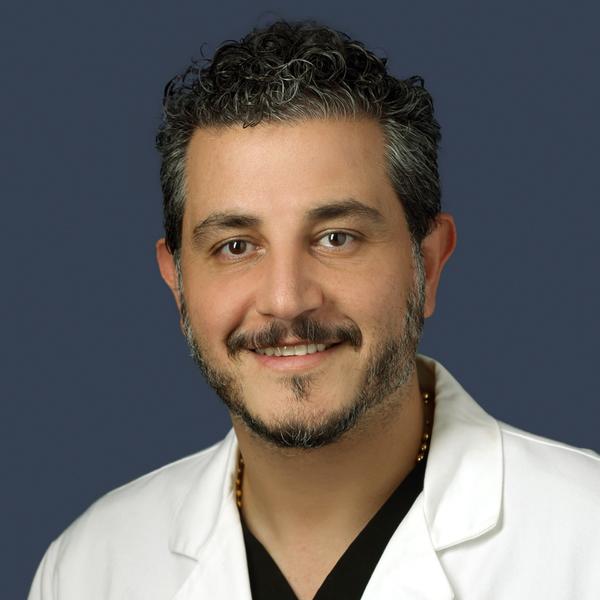 Dr. Walid M. Chalhoub, MD
Languages:
English, Arabic, French, Spanish
Conditions I Treat
abdominal bloating

abdominal distention

abdominal pain

abnormal amylase blood test

abnormal bowel movement

Show All

Hide
Procedures I Perform
bravo ph test
colon polypectomy
colonoscopy
esophagogastroduodenoscopy (egd)
feeding tube management

Show All

Hide
About the Provider
After completing fellowships in both gastroenterology and advanced gastroenterology (ERCP/EUS) at MedStar Georgetown University Hospital, Walid M. Chalhoub, MD, joined the hospital's medical staff in 2016 as an assistant professor of Medicine in the Department of Gastroenterology affiliated with the Georgetown University School of Medicine. Previously, Dr. Chalhoub was an attending physician in general medicine at Memorial Sloan Kettering Cancer Center and an instructor at Weill Medical College of Cornell University in New York City.

Upon graduating from medical school, Dr. Chalhoub first worked for several years as a clinical researcher and coordinator at the Mount Sinai Medical Center. He then completed his internship and residency at the medical center's Elmhurst Program, where he was appointed chief resident followed by an appointment to the medical staff as a general medicine attending physician.

Dr. Chalhoub has a special interest in diagnosing and treating pancreatic and biliary disease with advanced endoscopic techniques. An accomplished researcher, his work has been published in peer-reviewed journals and textbooks, and presented at national conferences including the American College of Gastroenterology Annual Meeting and Digestive Disease Week.

Dr. Chalhoub's Philosophy of Care

My emphasis first and foremost is the quality of care. I treat a patient as a whole. Patients in general are all going through stressful and hard times physically, mentally, and emotionally. We are here to make sure their medical journey feels understood, supported, and treated with the utmost expertise, clarity, dignity, and respect.
Education
Fellowship Program:

MedStar Georgetown University Hospital

(2015)

Residency Program:

Mount Sinai Medical Center

(2011)

Medical School:

Balamand Medical School

(2005)

Board Certification:

American Board of Internal Medicine, Internal Medicine
Publications/Presentations
Morales SJ, Nigam N, Chalhoub WM, Abdelaziz D, Lewis J, Benjamin B. Gastric Antral Webs in Adults: A Case series characterizing their clinical presentation and management in the modern endoscopic era. World Journal of Gastrointestinal Endoscopy (In Press)
Chalhoub WM, Arumagunathan M, Sliman K, Lewis JH. Drug Induced Liver Injury (DILI): What was new in 2013? Expert Opin Drug Metab Toxicol. 2014 Jul;10(7):959-80
Chalhoub W , Sidhu H, Singhal P , Pasechnik A, Wojtera T , Maufa F, Shafa S, Ajmera A, Anderson M, Korman LY,  Haddad N, Marino G. Colonoscopy Force Monitoring Detects Changes in Colonoscopy Training Model Difficulty and Model Adaptation.  Gastrointestinal Endoscopy (GIE). Volume 77, Issue 5, Page AB530, May 2013
Singhal P., Chalhoub WM., Sidhu H., Pasechnik A., Wojtera T., Maufa F., Shafa S., Ajmera A., Anderson M., Korman LY., Marino G., Haddad NG. Force Monitoring Using a Colon Training Simulator Demonstrates That Skill Is a Function of Effective Force Application Rather Than Force Magnitude: Studies in Experts and Trainees. Gastroenterology, Volume 144, Issue 5, Page S-570, May 2013
Sultan M., Chalhoub W., Gottlieb K., Marino G., Endosonographic findings in Colitis Cystica Profunda. Case report with the aid of EUS. ACG Case Rep J 2014;1(3):122–123
Hill E., Sultan M., Chalhoub WM., Jackson P., Mattar M. Median Arcuate Ligament Syndrome: A Cause of Postprandial Abdominal Pain in a Patient With Ulcerative Colitis.  Journal of Medical Cases, Vol. 5, No. 6, Jun 2014
Firwana B, Hasan R, Chalhoub W, Ferwana M, Aron J, Kang J, Lieber J.   Nephrotic syndrome after treatment of Crohn's disease with Mesalamine; a case report and literature review. Mount Sinai School of Medicine. Avicenna J Med. 2012 Jan; 2(1):9-11
Member of Medical Staff
MedStar Georgetown University Hospital

MedStar Southern Maryland Hospital Center
Awards
Chief Resident in Internal Medicine, Mount Sinai School of Medicine Elmhurst Program